Blog
How Cloud Security Can Help Alleviate Rising Costs, Salaries, and Talent shortages
Feb 15, 2022
Read this article in German, Danish, French or Dutch
After a tumultuous end of 2021 with the effects of the Omicron COVID-19 variant, the beginning of 2022 welcomed us with the re-opening of life, having people back at work, the end of mandatory masks and a sense of light at the end of the tunnel. Nonetheless, we are now facing new challenges that naturally come with the resolution of two years of lockdown and the temporary closure of the economy and society.
Today we must face the rising cost of living, with Eurozone inflation hitting 5% in December 2021 (the highest increase since the introduction of the Euro two decades ago) paired with a 26% rise in energy prices [1]. In which businesses are no way exempt from. The security industry is one of those that has been challenged with difficulties to recruit and retain staff with staff shortages hitting the EU due to restricted movement [2]. Furthermore, the rising costs of raw materials, and supply chain costs like fuel and electricity, to name a few that demand creative solutions [3].
How the security industry will face the music
At the beginning of the pandemic, we commissioned a survey to key decision makers in the security industry around Europe to understand the impact of the coronavirus. We found that cloud-technologies have shined a light on the risks associated with technology legacy assets, and organisations started embracing cloud apps to work in a hybrid manner of which security systems are an integral part.
The way the security industry works is changing, rightly so, since we cannot keep doing the same things and expect different results. Therefore, by using cloud CCTV and Access Control, installers work smarter, not harder. These can be great allies in overcoming the challenges and threats faced by the financial instability of the post-COVID world, as the benefits translate to reduced costs and the resetting of business models.

Here we present how cloud physical security can aid in keeping sustainable business growth:
1. Mitigating the hit of employee rising salaries

Statistics have shown there is a significant shortage of skilled workers in the technology and engineering industry with pay for talent has risen 12% on average across the 5 key European Markets [4]. When you have your higher-paid skilled engineer mounting cameras and connecting access control points to a server, you lose valuable skills they could be using on more complex tasks. By offering cloud CCTV and Access Control, you can utilise your resources better, as deployment will be both faster and easier:
First, you have one skilled IT professional at the installer's office who configures the devices (cameras, radars, access points, etc) and loads them up into the cloud platform, which takes less time than building servers on-site. Second, you have junior staff installing and deploying these devices on your client's premises, which depending on their infrastructure would be just plugging and screwing cameras or setting up some additional wires.
By taking this strategic approach as a security installer, you better utilise the capabilities of your staff members, so the salary increase is invested wisely whilst more business is sold and deployed faster. Efficiently managed talent results in higher client satisfaction with a simple solution that works for the end-user as well as the integrator.


2. Efficient use of resources
Security integrators by nature have to be in the field. The rising costs of energy and fuel will inevitably drag installation costs up. Energy cost has risen by is 54% from 2021 according to Bank of America estimates [5], and petrol prices have hit 1.68 euros per litre across the EU [6], but there are ways to make installations more efficient if we look at how to reduce the deployment costs. In comparison to traditional deployment methods, a cloud security system cuts down on many of the time, energy and financial costs traditionally needed. These include installing servers, devices and configuring them on-site which all have their own energy costs plus cooling. Let's look at the comparison here: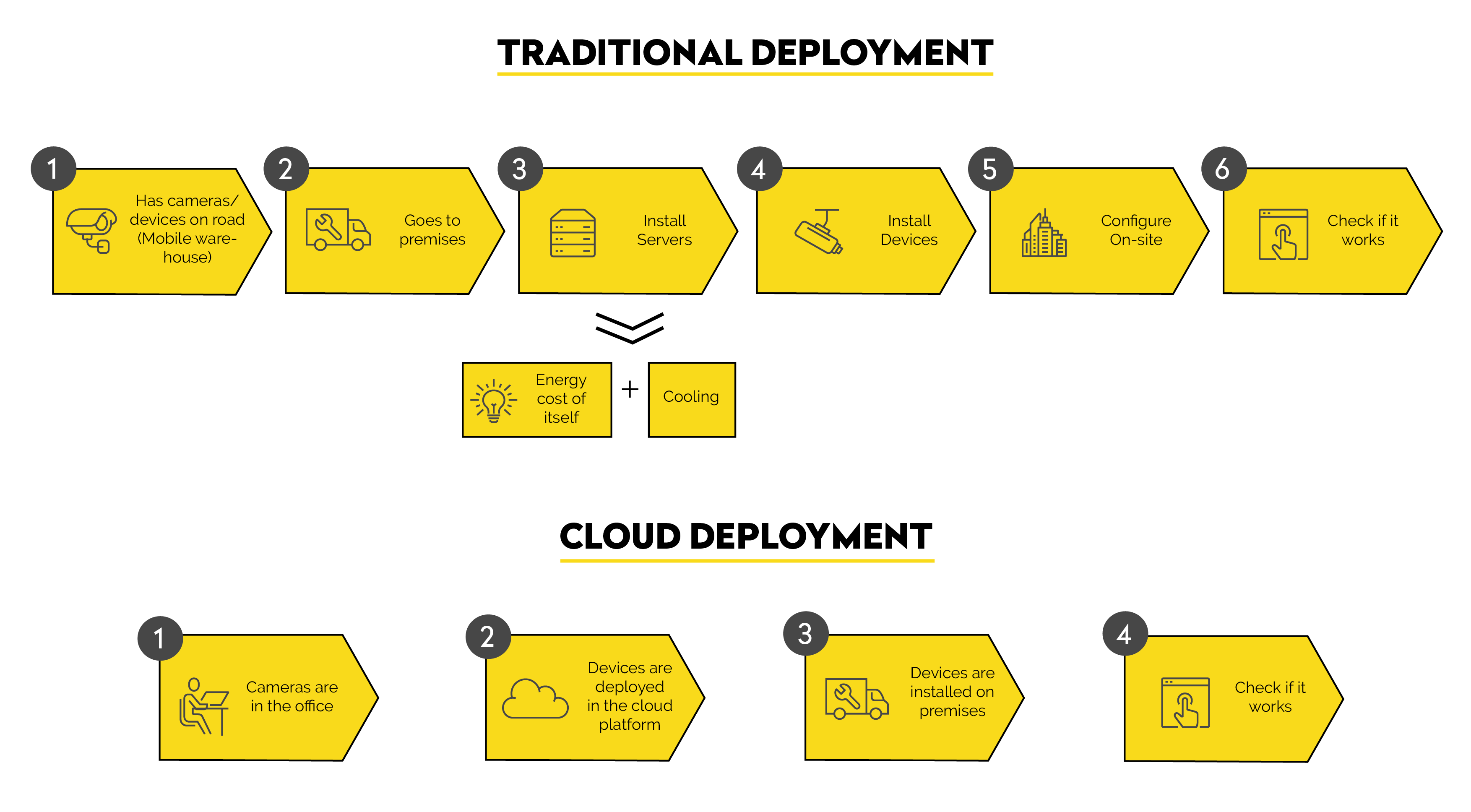 3. Multiplying revenue streams
Sustainable growth can be achieved in different ways, and the good news is that with cloud technology, security installers can grow revenue streams and future proof their business easily. Traditionally, an integrator would sell a one-time project (either big or small) and cash out. The cloud-physical security proposition leverages those contracts and makes them a sustainable revenue source, since it is charged per device, per month of use.
Once the equipment has been sold and deployed, there is a relationship with the end-user that opens up the door to up-selling features, with apps like people counting, AI intrusion detection, virtual concierge, and many more that continue to provide a revenue stream from the same device, keeping customers happy and meeting their needs.

The reality is that many factors will make security installers employees' salaries rise: inflation, tax, the great resignation, high-demand of jobs, skill-gaps, etc. But there are creative approaches to be taken to mitigate these, like reviewing the products and service offerings and adding the ones that streamline the deployment. Moreover, there is also work to be done in checking how to use resources such as fuel and electricity more efficiently, and finally to look at how we can create more streams without major input.
[1] https://www.ft.com/content/14d...
[2] https://www.bloomberg.com/news/articles/2021-05-20/europe-heads-for-jobs-crunch-that-may-be-deeper-than-the-u-s-s
[3] https://www.ft.com/content/7aef28eb-ce0c-49a4-b7cc-06d89478c44c
[4] https://www.businesswire.com/news/home/20220125005180/en/UK-and-European-Employers-Enter-The-Great-Remuneration-Boost-Pay-and-Benefits-to-Address-Skilled-Worker-Shortage
[5] https://www.reuters.com/business/energy/euro-zone-consumers-shock-power-bills-soar-2022-01-18/
[6]https://murciatoday.com/petrol...
Have a quick chat and learn how selling cloud can help your business grow